Cosmetic Dentist in Cordova, TN
Dr. Jason Botts
Cordova, TN Dentist
Botts Dental Spa
Dr. Jason Botts recieved his degree, Doctor of Dental Surgery, at Louisiana State University School of Dentisty . In his early years in practice he focused his attention on improving the dental health of underpriviledged children through compassionate service as a medicaid provider in Little Rock and Pine Bluff, Arkansas. From there, he continued his work of delivering patient and considerate dental care in private practice working in one of the largest cosmetic dentistry practices in Blytheville and Jonesboro, Arkansas.
With the estabolishment of Botts Dental Spa in 2009, Dr. Botts has further developed his concept of stress-free dental care utilizing a mix of advanced technology, relaxing spa techniques, and a sincere dedication to understanding his patients needs.
Dr. Botts is a proud member of the American Dental Association and an active delegate of the Memphis Dental Society .
He has completed advanced training in Sedation Dentistry though DOCS and daily utilizes levels of sedation to allow for anxiety free dentistry.
---
Caityln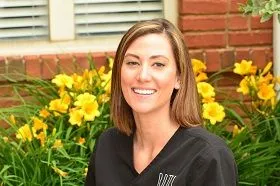 Caityln moved to Memphis is 2012 and graduated from Concorde Dental Hygiene program in 2014 and has been a member of the Botts Dental Spa Family since December of 2014. One of her passions is fostering through the Streetdog Foundation. Currently 4 dogs call her " Mom" including a foster dog named Gouda who is deaf pittie-mix.
Laura

Laura graduated dental hygiene school in 2011 and has worked at Botts Dental Spa since Janurary of 2012. She enjoys traveling and decorating in her free time.